We at Mirae Asset Financial Services (India) aim to help with your financial requirements in the most convenient and simplified manner. In this modern age we bring to you innovative lending products without the hassles of visiting branches, completing tons of paperwork or any hidden charges.
...
With our online platform and expertise in the financial industry, we aim to bridge gaps at every stage of traditional ways of lending. We're an amazing team of solution driven, like minded individuals working to help Indian consumers make right financial decisions.

Established in 2020, Mirae Asset Financial Services (India) Pvt. Ltd. is a registered Non Banking Financial Company (NBFC) with Reserve Bank of India.
Read more
Loan Against Securities
Now protect your investments in mutual funds and shares from unplanned financial needs with loan against securities. Select from a large list of approved mutual funds across multiple AMCs and shares (Demat accounts with NSDL only) with an easy end-to-end digital process
Loan Against Mutual Funds
Loan Against Shares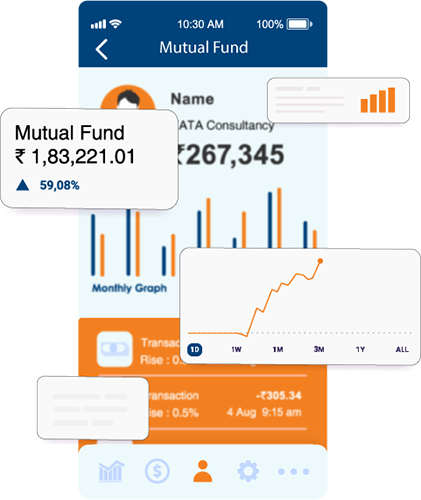 Loan Against Mutual Funds
Get Loan Against Mutual Funds within minutes. Enjoy the benefit of instant availability of funds and continue to retain ownership of your mutual fund investments to achieve your long-term investment goals.
Instant Disbursal
Attractive Interest Rate
100% Digital Process
Large List of Approved Funds
Explore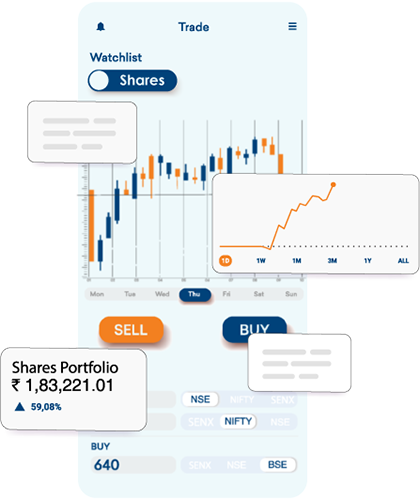 Loan Against Shares
Get Loan Against Shares on the same day. Hold your shares as per your investment plan, meet your short-term to medium-term financial needs with Loan Against Shares. Continue to retain your investments and all the benefits associated with them. Currently available for Demat accounts with NSDL only.
Instant Disbursal
100% Digital Process
Attractive Interest Rate
Zero Foreclosure Charges
Explore
How To Apply?
Complete a few simple steps to avail Loan Against Securities limit within minutes.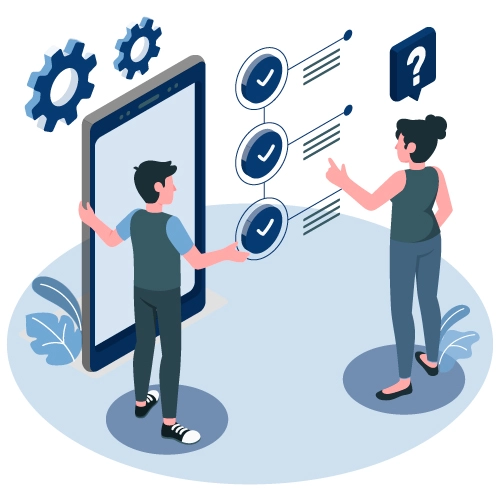 1

Download the app or apply via web

2

Select type of loan and apply

3

Complete KYC using PAN & Aadhar details

4

Enter bank account & additional details

5

Pledge securities online as collateral via CAMS, KFintech or NSDL platform.

6

Verify your bank account via Net banking/ Debit card

7

Read & sign loan agreement online

Your loan account is ready
Stay on Top with Innovative Dashboard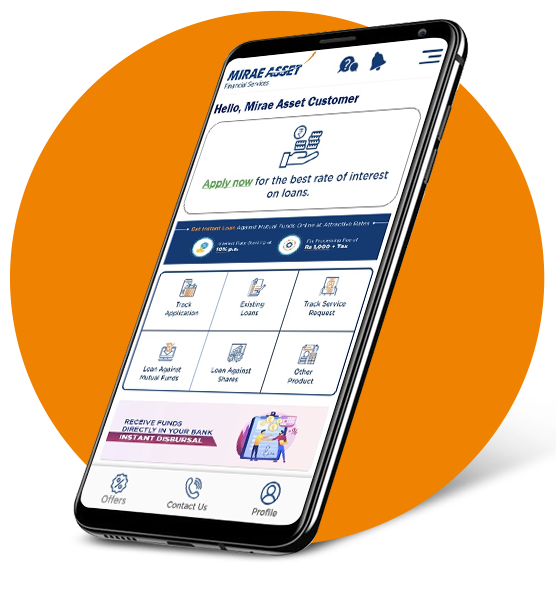 Manage all your loan account activities with just a few clicks.
Track your Credit Limit, Loan Details & Application Status Live
Select from a Range
of Loan Options
Withdraw, Pay or Top-up
your Loan Account Instantly
Check Existing Loans, Transaction History & Download Statements
What our clients say about us
"Excellent app, very simple & seamless process"
The best part for me was the quick & easy process to create a loan against mutual funds OD & get funds in your account within minutes. It was overall a very fast & seamless process. Overall, it was a good experience, just faced one confusion initially which was later solved by Mirae Asset Financial Service customer care. Great work, definitely recommend others.
- Pradeep Sisodia
Delhi NCR
"Very easy application process"
It was an extremely smooth and fast process; everything was just at a click of a button. Overall, very happy with the way the loan against mutual fund got disbursed and the support provided while I was completing the application. Even after the loan got disbursed, it's easy to manage it from our dashboard provided in the app. Makes it very simple and looks to be an up-to-date service that is required where we want paperless services without bureaucracy.
- Rahul Patni
Chhindwara, MP
"App is very fast & I didn't expect that"
The app is very fast & I didn't expect that the loan will be created in such a short time. It's very user-friendly and simple to use. The withdrawal facility and payment facility in the dashboard is a very clever way of making sure the user has all options in one place. I am also happy to see the pledge mutual funds list available as well. I am happy to recommend the same to my colleagues.
- Rini Varghese
New Delhi
"Paperless loan application is a great experience"
Complete online with no human need was the best part of the application process. The paperless loan application is a great experience. Basis the efficiency I am thinking about evaluating other Mirae Asset products.
- Anand Balakrishnan
Chennai
Overall process on the app was very easy. Found the product loan against mutual funds valuable and would recommend it.
- Depesh Singh
Hardoi, Uttar Pradesh